Languages
Android, Angular, CSS, HTML, iOS, JSON, Javascript, Kotlin, Laravel, Node.js, PHP, React, SQL, Swift, Vue.js, Wordpress, Fullstack, AWS, Azure, Shopify, WooCommerce, React Native, ReactJS, GraphQL, Bootstrap, UI Path), several others: ask us.
StanVision Digital Agency
Verified
Mobile app, Website, Design
Switzerland (Hergiswil)
StanVision is a digital agency working exclusively with startups and entrepreneurs who want to make their digital products more user friendly, strengthen their business strategy and positioning, and increase their revenue!
We specialise in UX/UI design for web and mobile apps, as well as brand design and strategy. Our team of experts has over 15 years of design and startup experience, including helping a few local VC-backed startups achieve exits for over $35 million in the past year!
Our main office is located in Sofia, Bulgaria and we have several representatives and remote team members in London, UK and Hergiswil, Switzerland.
We are now on the lookout to add the next 'big thing' to our portfolio!
Here you can find our portfolio: https://dribbble.com/stanvision
Average Project Size
€ 35000,-
Remote Collaboration Possible?
Yes
Development process
Our development process starts with a clear brief from the client, which will help us to identify your needs and start thinking of possible solutions. Then we move on to strategy and audit, where we take your product and research its market niche, competitors and main stakeholders. We use this information to create user personas, clear branding and information architecture.
The next step is the design stage where we create the first and second rounds of wireframes, mockup designs and responsive design for both web and mobile.
After we have agreed on the design, we move on to the development stage. Our team of developers are experts at creating responsive front-end solutions and personalized content management systems.
The process ends with final quality assurance and further marketing recommendations if needed.
Methodologies
Agile Software Development, Lean Development (LD), Scrum, Behavior Driven Development (BDD), Test Driven Development (TDD), Design sprints, Product research
Contact details
Stefan Godly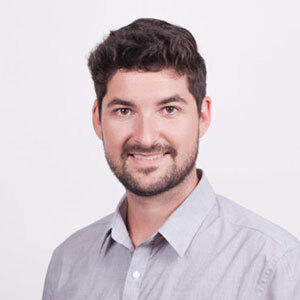 359887101100
Request a call
Ideal clients
We have worked with clients from all sizes and backgrounds with most of our projects being concentrated in the startup industry. The services we offer are a great fit for small to medium sized companies that are looking to develop their digital products such as apps, custom software, websites and logo and brand design.